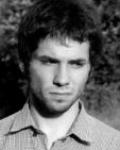 Biography
EDUCATION:
2004 Vilnius Academy of Fine Arts, Department
of Photography and Media Arts, BA student
1995-2002 M.K.Ciurlionis school of art, Lithuania
EXHIBITIONS, AWARDS:
2006 Member in film festival "Moviewithmovie",
Vilnius, Lithuania.
2005 Member in smd video art exhibition,
Vilnius, Lithuania.
2004 Second place in schoolchild short-film
festival "Pegasas", Vilnius, Lithuania
2004 Second place in 46-th republic amateur
film festival, Vilnius, Lithuania
1996 First place international schoolchild
competition "Sound and Vision", Helsinki,
Finland.
R.Sakalauskas about his activities says: "From early childhood I tend to visual art and music. Now my goal is to recreate the space I am lining in."
Categories